Из досье Отдела X
FROM THE FILES OF DIVISION X
CASE NUMBER: 777 - 31 - MIKAEL PIPER
Ruben Cortada
Основная информация подозреваемый
Basic Suspect Information
SUSPECT NAME: Mikael Piper-Romenavik
KNOWN ALIASES: General
AGE: 18
DATE OF BIRTH: 8/9
GENDER: Male
AFFILIATION: X-Men
ABILITY:
Lycanthropy - ability to shift into a large, black-furred wolfman
Heightened senses
OCCUPATION: Unemployed
LAST KNOWN LOCATION: Arkhangelsk, North Russia
Подробная Внешность подозреваемого
Detailed Suspect Appearance
ETHNICITY: Russian
ESTIMATED HEIGHT: 6'5" (8'5" as wolfman)
ESTIMATED WEIGHT: Unknown
BUILD: Well-built and fit
EYE COLOUR: Green
HAIR COLOUR: Black
HAIR STYLE: Long, about shoulder-length. Mostly straight, messy.
PREFERRED DRESS: Anything comfortable that isn't too hard to replace.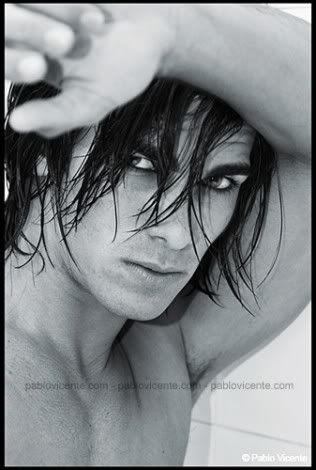 Личность профиля
Personality Profile
KNOWN HABITS:
Being lazy
Reading
Drawing
Being a hedonist
TEMPERMENT: Kael is a fun-loving, semi-hedonistic guy. While perfectly capable of being serious, he prefers to be cheerful all the time. Easy-going and easy to get along with.
Подозреваемый информация История
Suspect History Information
MOTHER'S NAME: Natalya Piper-Romenavika
AGE:
OCCUPATION: Accountant
FATHER'S NAME: Wiktor Piper-Romenavik
AGE:
OCCUPATION: Engineer
SUSPECT HISTORY: Kael has always known he was...er...
special
, if that was the word. When he was born, his parents knew there was something different about their child when he came into the world covered in fur and wagging his tail.
Things went a little weird after that.
The boy, named Mikael as a nod to his English grandfather, stopped being furry when he hit eighteen months old, apparently reverting to an average, if intelligent child. His parents breathed a sigh of relief, helping their son live a relatively normal life...though there was always the fear that one day they'd wake up and he'd have a minor bodyhair issue again. But the months turned into years, and nothing happened, besides him developing a taste for raw meat and a healthy attitude towards fun.
Then, on his eleventh birthday, it happened again. They woke up to a fuzzy wolf-boy. After a few days, he reverted back to normal again, but not for long - seemingly at random, Kael would become the mini-monster again. Not only that, but his diet changed - cooked meat made him sick, normal 'human' sweets were very bad for him. The transformations themselves were painful for the poor lad, though as time went on and he started hitting puberty for real, he started to control them and grew used to the pain and discomfort.
Kael fully embraced his fuzzy self, happy to follow his hedonistic urges of wining, dining and womanising - though women weren't the only thing that caught the werewolf's eye. He largely kept his lycanthropy a secret in his family, and though there were a few narrow misses, he was mostly trauma-free.
Unfortunately, it didn't last long. Not long after he turned 17, he was caught with a girl by her boyfriend. Not exactly focused anyway, the boyfriend got a nasty shock when he went to hit the girl to the tune of a broken arm and a dislocated shoulder...and something that looked very suspiciously like a wolf-bite.
Kael has been trying to keep his head down ever since.