Name:
Raven Darkholme
Codename:
Mystique
Aliases:
Ronnie Lake
Hair Colour:
Blonde/Red
Eye Colour:
Blue/Yellow
Body-type:
Short and slimly built/Tall, athletic, covered in semi-scaly blue skin.
Date of Birth:
2nd of May, 1994
Nationality:
UK
Status:
Unregistered mutant
Affiliation:
Herself, Brotherhood of Mutants, Hellfire Club
Mutation:
Shapeshifting, dermic (skin level) healing and an immunity to toxins and poisons
Personality:
If you had to summon Raven up in one word it would be 'selfish'. She puts her needs above all others and has very few connetions to other people, viewing most of the population as ignorant peons at best and tools to be used to further her own agenda at worst, with only a few individuals ever obtaining the rank of her equal in her eyes.
Usually personifying the 'stone-cold bitch' type, when she wants to be she can be very charming and pursuvasive, and she has a gift for working out the levers that will get people to co-operate with her and exploiting them. Already a ruthless, 'by whatever means necessary' person, as of the manslaughter of her homicidal aunt Raven's personality has taken a much darker twist, more then happy to act as the Brotherhood's assassin she's developed a pathelogical disregard for human life, and even seems to find murder sexually arousing.
Publicly to her allies she will proclaim that she is an advoacte of mutant rights and willing to do whatever is necessary to get them, privatly this is only half the truth. With more mutants being born every day Raven knows it's only a matter of time before they are the dominant race, and when that time comes, she intends to be top of the pile in the new world order, no matter the costs ...
History:
A former student at Xaiver's, Raven (sometimes know by her family nickname of Ronnie) never really embraced the X-Men's superhero ethic, mostly since it goes completely against her own personal ethic which is 'Always look out for number one'.
The daughter of Ronald Darkholme, the head of one of the UK's largest property developers and Mary-Anne Girrard, a US ex-pat and highly successful stockbroker, her parents marriage was not one of love but an alliance to improve both their fiscal holdings, and Raven was conceived and born to be a perfect heir to their respective empires, and from the earliest ages Raven was trained to follow in her parents footsteps.
Though privileged in every way, Raven's childhood was fraught with tragedy, loosing first her younger brother Luke in a cot death her mother was diagnosed with skin cancer shortly afterwards and eventually succumbed and died when Raven was nine. Raised by her father (with whom she did actually had a very close relationship) till she the day she came home from school to discover the fact that her father had died suddenly of a heart attack when she was fourteen.
Orphaned, she was sent to the US to be adopted by her only living relative, her mother's twin sister Mary-Lou who was more than happy to take her niece into her home ... till she discovered that Raven's parent's wealth had been placed into trust and was unaccessable until the girl turned twenty-one, with only a monthly maintainance payment coming out.
Aware of a change in her aunt's behaviour the traumatised and paranoid girl started to spy on her aunt, and her paranoia was proved to be founded as she discovered that her aunt was planning to pay a hit-man to murder her in what would be made to look like a break-in gone wrong so that Mary-Lou would be able to claim her parents fortune.
Not waiting to killed, Raven ran away from her aunt's house with the intention of vanishing into the homeless underground, manifesting her mutant abilities shortly afterwards and using them to great effect as she hid from the authorities and moved from state to state with the intention of re-emerging once she turned twenty-one, claiming her inheritance and moving back to the UK.
Before being picked up by Xaiver's she had spent two and a half years living on the streets, doing whatever she needed to survive, be it theft, mugging and even prostitution, and while initially she was resistant to the idea of staying at the school, the idea of a free home and meals under her assumed identity of Ronnie Lake eventually won out, and she spent the next four years till her graduation living in comfort and mostly avoiding getting involved with the 'do-gooder peons' as she privately thought her classmates and teachers to be.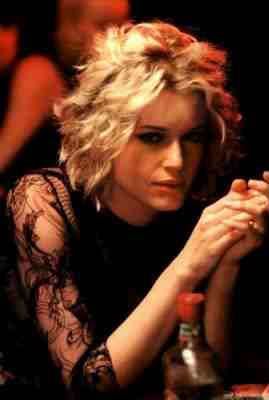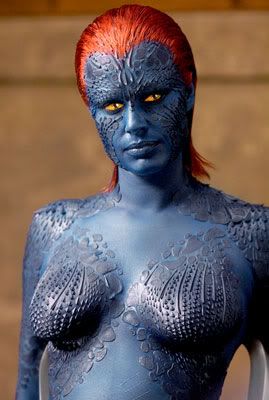 [Edited on 29/9/2011 by puppygirl]